The 19th Kanagawa Biennial World Children's Art Exhibition
About Exhibition
We received 24,572 entries (389 from around the world / 130 from Kanagawa Prefecture) for the 19th Kanagawa Biennale International Children's Exhibition. The works by children (four to fifteen) were sent to us overcoming the language and cultural barriers. The number of the participant countries is eighty-eight including one region. Selected 519 works are displayed during the period (7 July to 20 Aug.). Children and students represent what they see, ongoing issues, imagination on the drawing papers. You will be able to feel their desire conveyed from the pictures that are sent abroad across borders. If you have one pencil and one paper, you can represent all. Please try to feel one world through art.
Summary
●Period
7 July to 20 August 2017 (forty days)       10:00 to 17:00 Closed on Mondays (except for 17 July) Admission free
●Admission
free
●Venue
Gallery, Kanagawa Plaza for Global Citizenship
1-2-1 Kosugaya, Sakae-ku, Yokohama, Kanagawa
247-0007 JAPAN
●Exhibits
519 prize-winning works (389 works from around the world, 130 works from Kanagawa Prefecture)
●Organizer
Kanagawa Prefecture, Japan Kanagawa Plaza for Global Citizenship (designated administrator: Japan Overseas Cooperation Association)
●With support of
Ministry of Foreign Affairs, Ministry of Internal Affairs and Communications, The Japan Foundation, Japan International Cooperation Agency, The United Nations Association of Japan, National Federation of UNESCO Associations in Japan, The National Council of YMCAs of Japan, The Japan Committee for UNICEF, Japan-China Friendship Association of Kanagawa Prefecture, Municipalities in Kanagawa Prefecture, Kanagawa Prefectural Board of Education, Municipal Boards of Education in Kanagawa Prefecture
PROGRAM
《Cinema》Admission free First-come-first-served basis 120 seats
"Woman in Gold"
(Human drama over Klimt's masterpiece) (A English film with Japanese subtitles )
17 July 10:00-/12:30-/15:00-


"Hatachi No Mugonkan "
(Documentary film themed on the art students who died in the II World War) (Japanese Only)
12 August 10:00-/14:00-


Contact us:
Please access to our website or Facebook.
Facebook https://www.facebook.com/kanagawabiennial
Secretariat, Kanagawa Biennial World Children's Art Exhibition
c/o Earth Plaza
1-2-1 Kosugaya, Sakae-ku, Yokohama City, Kanagawa Prefecture, JAPAN
Postal code 247-0007
FAX:045-896-2299
E-mail:k-biennial■earthplaza.jp
(Change ■ to @)
※When you contact us by e-mail, please let us know name, country and group (in case of group entry).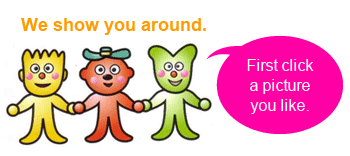 This museum houses more than 1500 art works by the children from
all over the world. The art works are categorized by nation/region and year of an exhibition.
We show you a special feature on self-portrait and faces of friend and family. They have many expressions!
Self-Portrait and Faces of Friend and Family